This year, as part of UCLA SETI, I helped launch a first of its kind project to search for extraterrestrial life in the galaxy. But although I'm a new PhD student in Earth, Planetary, and Space Sciences (EPSS), this is not where my UCLA story began.
In 8th grade, my parents placed an order to the BearWear catalog and bought me a Hello Kitty UCLA hoodie – one of many BearWear items in my closet at the time. It was no secret that my family wanted me to become a Bruin. After all, that was kind of a family tradition of ours.
My grandparents immigrated from Taiwan to Los Angeles in the 1960's for my grandfather to pursue a PhD in System Sciences at UCLA. While living in graduate student housing, they had my father and uncle, who would go on to become Bruins themselves. Despite being a young parent in a new country, my grandfather finished his Ph.D. In fact, his master's thesis and Ph.D. dissertation are both still available in the UCLA library just a few steps from where I now work.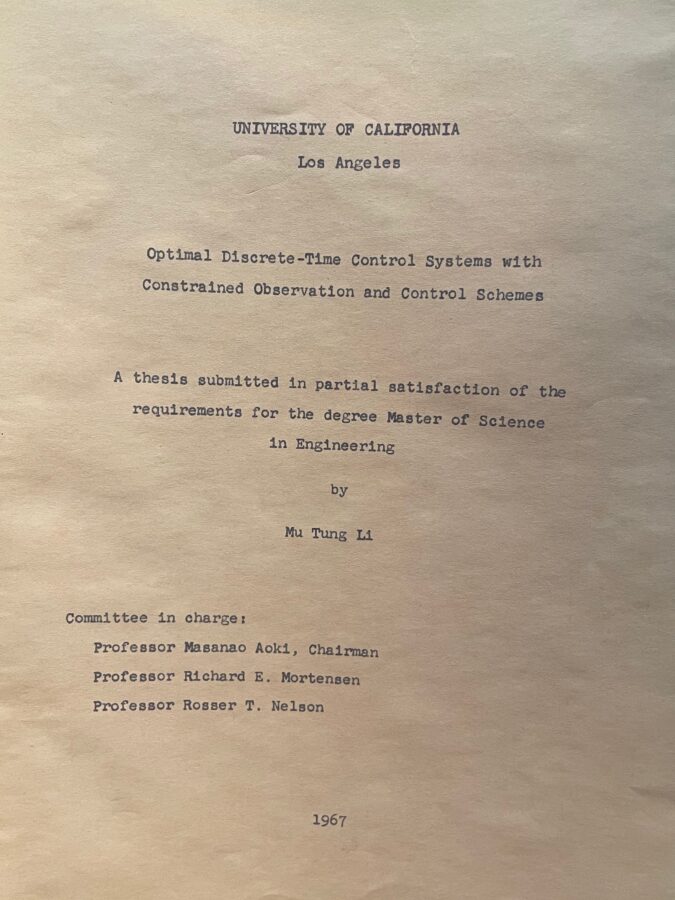 But academia was not always the most inviting place to my grandfather. He didn't speak the language well, lacked permanent residence, and struggled to build a community. That lack of permanent residency would bar my grandfather from joining the public sector. Instead, he and my grandmother opened a small children's clothing store in Long Beach and raised their children as loyal Bruins.
So, you can only imagine my immense disappointment when I received a rejection letter from UCLA as a high school senior. In tears, I took down the Hello Kitty UCLA hoodie from my closet and handed it to my mom, telling her we should donate it to charity. She gave me a big hug and moved the hoodie back into my closet in a tucked away corner. "You never know what will happen in the future; let's just keep it," she told me. My mom knew this wasn't my first disappointment.
From the ages of 1 to 7, I suffered from an illness that prevented me from leaving the house or making friends. One thing I could do was read astronomy books and solve math problems with my grandfather, which I did almost every night. Looking back, I think our nights working on science problems together was a way for him to stay connected to a passion he never got to pursue.
I only heard my grandfather's stories of his struggles for the first time a few years ago. He feared his story might be lost and he shared those experiences in a large circle of our family. Then he turned to me directly and said "Those times were hard for us because we didn't have roots. That's what makes you so lucky."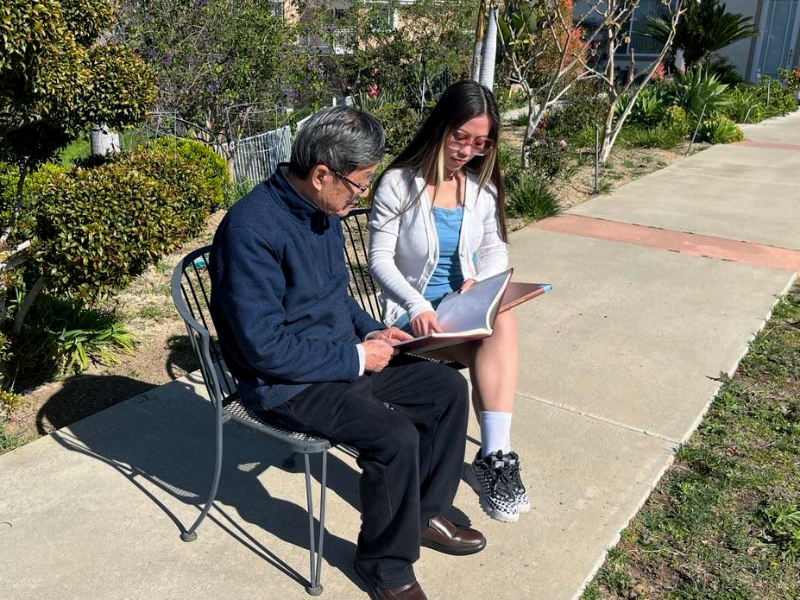 My experience with science picked up when I was able to return to school. Although I heard the usual lines that girls weren't supposed to be interested in such things, once I got a deeper taste nothing could stop me and science actually became my safe space. And that safe space eventually grew into a full-blown community.
SETI, or the Search for Extraterrestrial Intelligence, is a collective effort between scientists all across the globe – including myself! I heard about SETI in my first college physics class at UC San Diego called "Thinking Like a Physicist." I loved the idea of people from all over the world, no matter their background, working together to answer a big question. Even though I wasn't at UCLA, I knew right then that that was what I wanted to pursue.
A few years later, I got a summer internship at the Berkeley SETI Research Intern program. It was there that I met my mentor, Professor Sofia Sheikh – the only woman in the world who has received a PhD in this discipline so far. I was lucky enough to have a family that could support me during the internship – something that should be available to any student regardless of means!
And all this, finally, brings me to my time at UCLA Earth, Planetary, and Space Sciences and my advisor – Professor Jean-Luc Margot.
Professor Margot had the position of my dreams available — a PhD in the search for technosignatures by way of citizen science, outreach, and machine learning. PhD positions pursuing SETI are extremely limited due to sparse funding; There have been fewer than 15 PhD's awarded in SETI. After graduating from UCSD I was accepted into Professor Margot's group and was now, finally, a Bruin. I would get to work at the cornerstone of my two passions — SETI and outreach — while learning bleeding-edge technology at UCLA. I hadn't seen work like this being done at any other institution. The stars had aligned for me to do exactly what I wanted, exactly where I wanted to do it — at the school that gave my family a home 60 years ago.
Professor Margot's project is incredibly unique. It begins with our high volume technosignature search, which has surveyed 40,000 stars to date, yielding ~60 million candidate signals. Of these signals, 99.5% of them are automatically filtered out as being terrestrially generated. But this still leaves hundreds of thousands of promising candidates, which we decided to let the public help us identify.
"Are we alone in the universe?" is a platform for everyone to sort the most promising candidates into different categories. There's a strong possibility that several signals on our platform have never been seen before – they could be unidentified astronomical phenomena or, possibly, extraterrestrial communication. Our platform is intended to be user-friendly and require no prior knowledge to operate. We felt it was important to expose more young people and citizen-scientists to the work we do so they might follow this path themselves one day.
Humanity's most profound discovery could be just a few clicks away, and they could be your clicks! Anyone with an internet connection can volunteer and the barrier to entry is relatively small. Once the candidate signals have all been sorted, I will be using the data to build machine learning algorithms to comb through future searches and streamline our data analysis.
One of the most important lessons I've learned as an academic in STEM is that the people you choose to do science with is what matters most. Despite being a published scientist, I've experienced being talked down to or skipped over. But there will always be people who understand your worth. For me, these were people like Professor Karin Sandstrom at UCSD, Sofia Sheikh at the Berkeley SETI Research Center, and Professor Jean-Luc Margot at UCLA. They all saw me first and foremost as a fellow scientist. It's important to spend your energy with people who see you for who you are – and who you could one day be.
Today, I feel at home in EPSS. A quick walk through our building will reveal that almost everyone is doing something completely different from their neighbor. While I work on SETI, my office mates are looking at asteroids and Venus. Someone downstairs is looking at infrared measurements of the moon, and another group blows objects through a giant sandbox to learn about dune formation.
I never had a perfect GPA or the fastest running code, but when I look back at my academic journey that's not what I focus on. I think about my grandparents' struggle as they moved from Taiwan to Westwood. I think about my parents falling in love in the library on top of Boelter Hall. I think about my weekends at the Rose Bowl in Bruin blue and gold, and I think about how much I love sharing SETI with everyone I know. Science is not just about numbers, it's about passion.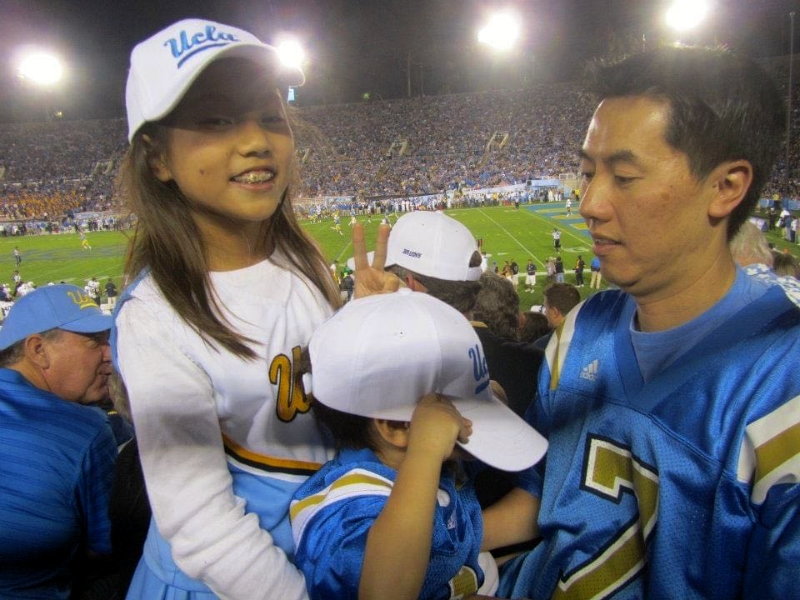 I brought my mother with me to my grad school orientation. The EPSS student advisor saw this and told all the students how important it is for new students to have at least one person supporting you. I was fortunate enough to grow up with a biological family who could do just that. My advice to future students is to find your family, whether given or chosen. And then grow your roots.
---
Megan Grace Li is a Los Angeles native and a first year PhD student in Earth, Planetary and Space Science. She is also the founder of Big Sister Stem, a non-profit organization that pairs female-identifying students from grades 5-12 with early-career women in STEM fields.